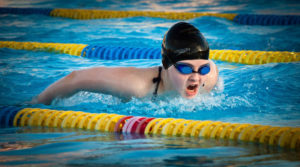 Thermomass-insulated concrete walls are a great fit for a variety of  indoor water parks, swimming pools, and other aquatic centers. The walls themselves provide a durable, energy-efficient building envelope that can stand up to the daily wear and tear of a public recreation facility, and the experienced technical staff at Thermomass are experts in providing construction details that minimize moisture concerns in buildings of this type. Two such projects are underway in Roswell, New Mexico, and Yakima, Washington.
Yakima YMCA and Rotary Aquatic Center
Planned for development since at least 2014, the new YMCA aquatics center in Yakima spent much of the past three years on the drawing board as money was raised to fund the project. As of February, over 85% of the necessary funds were secured. Construction on the new recreation center is to begin in earnest later this summer, and the completed project – featuring a lap pool, a leisure pool, water slides and a lazy river, plus other amenities – is planned to open in Summer 2019. The building envelope will consist of Thermomass-insulated tilt-up panels.
See photos and read the online article at: http://www.yakimaherald.com/news/local/yakima-rotary-club-makes-a-splash-with-million-gift-to/article_2dba8a56-0773-11e8-8b5d-efb0f9f2c068.html
Roswell Recreation and Aquatic Center
A new recreation center is nearing completion in Roswell, New Mexico. The first phase – including a fitness center, basketball court, and other indoor activities – is tentatively scheduled for a Fall 2018 completion. The aquatic portion is not expected to be operational until Spring 2019. It will feature an eight-lane indoor pool and a climbing wall above the water. Seating will also be included for spectators to view competitive events. The recreation portion was was designed by Huitt-Zollars. The aquatic portion was designed by Counsilman-Hunsaker. The general contractor handling the construction of the center is Waide Construction of Roswell.
Read the City of Roswell's project update at: https://www.roswell-nm.gov/CivicAlerts.aspx?AID=379