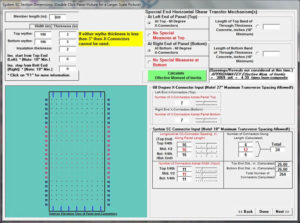 In 2015, Thermomass unveiled a new, 21st century tool for creating energy-efficient, integrally insulated concrete walls. The product – Thermomass System SC Design Analysis Software – was created specifically for the design and analysis of structurally composite sandwich wall panels featuring Thermomass CC Series and X Series fiber-composite connectors.
Use Cases
This program can be adapted to both mild-reinforced tilt-up panels and pre-stressed precast panels in load-bearing or cladding applications. It provides engineers a rational calculation of composite action percentage based on stresses and the spacing of the CC Series shear connectors and X Series load transfer devices.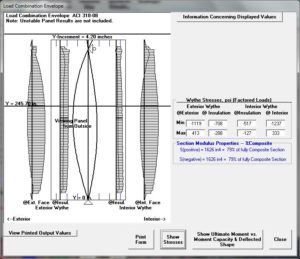 This easy-to-use application provides a comprehensive analysis based on:
Wind loads
Seismic loads
Temperature loads
Available Output
The program has been updated to ACI 318-08 and produces an all-inclusive output for the design professional, including:
Stresses and deflection at each interface within the concrete sandwich wall section.
Moments (maximum and minimum)
Deflection
Request the Software
If you are a design professional interested in obtaining a free demo copy of our design analysis software, please submit your contact information below and a Thermomass System Engineer will contact you with download and training instructions.