Thermomass announced today that Cindy Matthies, Western Region and International Sales Coordinator, will be retiring on Friday, September 1, 2017.
Originally from Fort Dodge, Iowa, Matthies began her career in the homebuilding industry. After getting married, she and her husband, Rich, raised their two sons while moving often to follow Rich's military career. Her family returned to central Iowa in the 1990s, where her two sons would graduate from high school and college. Cindy also returned to school, graduating from Iowa State University with a degree in Industrial Engineering. After college, she worked in the software industry before joining Thermomass in July 2005.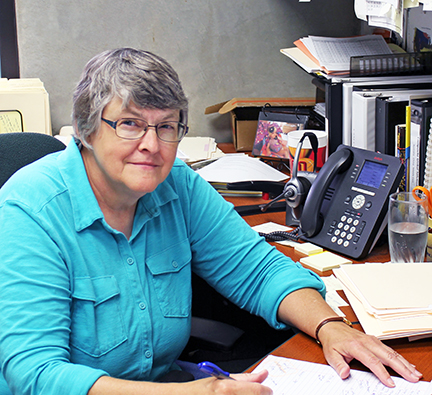 Matthies's career at Thermomass began with her overseeing internal sales efforts for the western half of the United States as well as Canada and Europe. As the company grew, so did her duties. Cindy now coordinates sales efforts across the West Coast, Canada, and Europe, as well as in Mexico, Latin and South America, China, Australia and the Middle East; efforts that have garnered lasting respect from the rest of the team at the company.
Matthies's retirement had been planned since 2016, and the company expanded the sales coordinator staff in preparation for her departure. Kelly Leichliter will assume the role of Western Region Sales Coordinator. Ginger Wiebers will add International Sales management to her current duties as Eastern Region Sales Manager. Jamie Tullis will continue as Southern Region Sales Manager. All three have benefited from Matthies's guidance during the transition period. That dedication to the continued success of the company even after her retirement is just one of the many reasons Matthies's work ethic is well respected throughout the organization.
"On behalf of everyone at Thermomass, I want extend my sincere appreciation to Cindy for all she has done to drive our growth during her tenure here," said Thermomass President, Brad Nesset. "I know we have great sales team in place, largely due to the leadership, experience, and knowledge that Cindy has demonstrated throughout her career. Much of our success during that time stems from her work ethic, the dedication she has shown to our customers and our business partners, and her willingness to step up and meet any challenge. She will certainly be missed."
Matthies plans to travel more in the coming years, and is looking forward to spending her retirement enjoying more free time with her sons and their families. Her granddaughter, Emmalynn, as well as a number of great nieces and nephews are all involved in a variety of activities that Cindy is happy to soon be able to take a larger part in. She will also take with her many lasting memories of both colleagues and customers.
"I have really enjoyed all the interesting people whom I have formed friendships with over the years," said Cindy. "That includes the terrific Thermomass team, as well as all of those very special customers. I will definitely miss being involved with them every day."