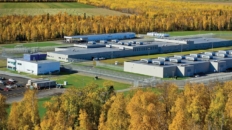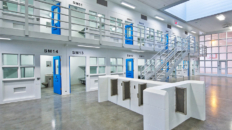 At a Glance
Location

Wasilla, Alaska

Completed

February 2012

Total Size

435,000 sf

Thermomass Products

System NC
Alaska's newest correctional facility was designed to be durable and energy-efficient while offering inmates a better chance at rehabilitation.
Located across the Knik Arm waterway west of Anchorage, the Goose Creek Correctional Center was built to solve two pressing issues facing the Alaska Department of Corrections (ADOC): a lack of prison space and a desire to improve rehabilitation rates.
Due to a lack of adequate facilities within the state, the ADOC was housing nearly 1,000 inmates at prisons in Colorado and Arizona. Concerns over the costs of such arrangements and mounting frustration by Alaskans unable to visit their incarcerated family members led the adoption of legislation in 2004 that would pave the way for the first new state prison in 20 years.
In addition to the money saved on inmate travel costs and prison space lease payments, plus the local economic and employment boost a new facility would bring; the ADOC also hoped that moving the prisoners back to Alaska and closer to their families and other familiar support structures would bring a similar boost in successful reentry into normal society for the inmates – a goal that helped shape the overall layout of the new facility.
A Model for Prisoner Rehabilitation
The Goose Creek Correctional Center was designed to operate differently than many prisons. Comprised of five separate buildings, the facility's planning focused on creating a sense of personal responsibility among prisoners who are generally free to come and go during the day, handling their own errands including trips to the post office, pharmacy, or barber shop; as well as work shifts at jobs for the prison's grounds keeping crew, laundry rooms, or dining hall – one of the largest commercial kitchens in the state.
There are, of course, areas where more dangerous offenders are held, as well as specific housing for those needing specialized medical care or in custody temporarily while awaiting trial, but the biggest segment of the 1,500 inmate population lives in general housing where the state offers programs for job training, substance abuse, and anger management.
Thermomass Benefits
Alaska poses unique challenges in terms of construction. Not only must finished buildings stand up to tough winter weather, but the construction season is compressed, so those projects have to get completed on time to avoid costly and dangerous working conditions. Fortunately, insulated concrete tilt-up panels featuring Thermomass System NC proved to be an invaluable component for Neeser Construction, the general contractor on the Goose Creek project.
Because Thermomass insulation is sandwiched between the exterior and interior layers of concrete, the facility's walls were built and insulated in one operation, allowing for an expedited construction schedule, especially for a project of this size. Additionally, because the building envelope was in place quickly, interior tradesmen were able begin their work sooner as well.
Thermomass products will also benefit the prison for years to come. Exposed interior and exterior concrete panels provide a durable, low-maintenance surface ideal for correctional facilities, and the inherent thermal performance advantages that Thermomass System NC provides, means that the ADOC can expect lower energy costs even in the face of Alaska's harsh winter months.