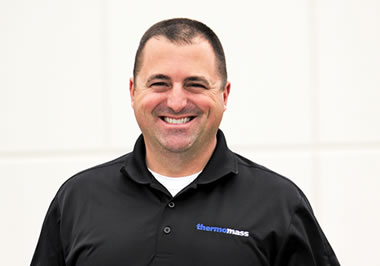 Thermomass is pleased to announce the promotion of Mitch McCaulley to the role of North American Sales Director. As part of his new responsibilities, McCaulley will oversee all sales activity throughout the United States, Mexico and Canada. He will also direct the company's growing team of Regional Sales Managers.
"I'm really looking forward to this opportunity," McCaulley said. "My goal is to remain a trusted resource for all of our current and future clients while also helping Thermomass continue its remarkable growth in the United States and beyond."
McCaulley will report to Thermomass President, Brad Nesset, who feels McCaulley was a natural choice for the new position.
"When we began the search process, we knew that the right candidate would need an in-depth knowledge of the industry," said Nesset. "We were also looking for someone who would fit the culture of customer service that is at the heart of our company and product offerings. Mitch was a terrific choice in both regards, and I am really looking forward to working with him in this new role."
Originally from Iowa, McCaulley received his Business Administration degree from Grand View College. He has been a member of the Thermomass sales team since August 2006, when he was hired as a Regional Sales Manager. Most recently, McCaulley served as the company's National Account Manager.