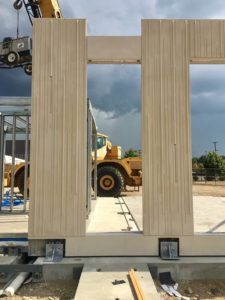 Students at Washington University in St. Louis began construction this week on their entry in the U.S. Department of Energy Solar Decathlon. Their project, CRETE House, features Thermomass-insulated precast panels as a part of a holistic approach to building a modern home that resists insect, fire and storm damage while remaining easily built, durable and energy-efficient.
Thermomass insulation system was selected for several reasons. Among them, Thermomass insulation systems provide industry-leading energy-efficiency in concrete walls, and Thermomass MT Series connectors allowed student designers the opportunity to use a thin exterior concrete face on the project's six precast panels. Integral insulation placement also ensures a durable finished product – an import consideration as the home is moved from Missouri to Colorado in late September.
The Team
Team WashU is made up of faculty and students from Washington University departments of Engineering, Architecture, Landscape Architecture, Computer Science, Construction Management, and Public Health. The group is led by Hongxi Yin, Associate Professor for the university's International Center for Energy, Environment and Sustainability.
The Competition
The Solar Decathlon competition involves sixteen teams from colleges and universities in the United States and abroad that have been working for nearly two years on the process of designing and building affordable solar-powered houses. All entries are required to use solar energy to maintain typical household functions. Any addition energy input – like battery power – must be offset by energy produced by the house itself.
Like Team WashU, most groups are now in the final stages of constructing and testing their designs, before each model house is taken down, shipped to Denver, and then reassembled for the official competition in October. For the first time in the program's 15-year history, teams will be vying for $2 million in prize money.
Visiting
Solar Decathlon 2017 will be held at the 61st & Peña Rail Station in Denver, Colorado.
Visitors may tour The Solar Decathlon village and competition houses for free on the following dates and times:
Thursday, Oct. 5–Sunday, Oct. 8, 2017: 11 a.m.–7 p.m.
Monday, Oct. 9, 2017: 1 p.m.–7 p.m.
Thursday, Oct. 12–Sunday, Oct. 15, 2017: 11 a.m.–7 p.m.