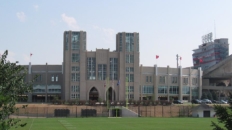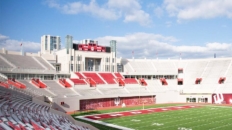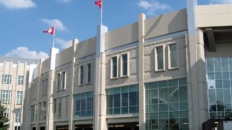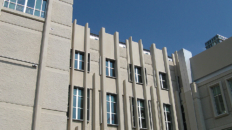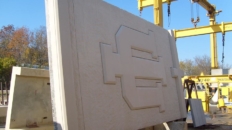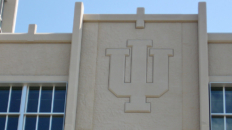 At a Glance
Location

Bloomington, Indiana

Completed

July 2009

Total Size

130,000 sf

Thermomass Products

System SC

Featured Partner
This award-winning stadium addition illustrates the design versatility available with insulated precast panels.
With help from Ratio Architects and Pepper Construction – both based in Indianapolis – the Indiana University Athletics Department broke ground in July of 2007 on the long anticipated North End Zone Addition to Memorial Stadium, the 48,000-seat home of the Hoosier football team.
Unlike many stadium renovations, this project was not meant to dramatically increase seating capacity for the venerable 60-year-old facility. Rather, the university was hoping to build a space that could serve a number of purposes: an enclosed concourse and concession area connecting the east and west seating sections; new offices, meeting rooms, and locker rooms for the football team; a new world-class weight room for all athletic programs; a "Hall of Champions" space for special events and museum exhibits celebrating past athletes and achievements; and brand new office space for the Athletic Department – all contained in a new landmark for the campus designed to serve as a gateway to Indiana University for fans and visitors.
Design Guidelines
Not only did the new end zone expansion have a number of functional aspects to fulfill, but it also had to meet the specific design goals of the university as a whole. Architectural guidelines for all new facilities at Indiana University call for structures to "embody an architectural aesthetic that is derived from function and expressive of the purpose of the structure" while athletics venues in particular are called on to "promote an iconic one-of-a-kind image that reinforces Indiana University's enduring values and its commitment to first-rate intercollegiate athletics." Additionally, designers are to embrace the concept of public space around all new construction and work to facilitate a solution that encourages public plazas and social interaction.
To meet all of the requirements for the new addition, the design team at Ratio Architects partnered with Gate Precast to create concrete sandwich panels featuring Thermomass System SC insulation.
To more closely match the Gothic limestone architecture of the academic campus buildings, the panels for the addition were cast using form liners made from impressions from actual limestone and a series of reveals and smooth surfaces to articulate the look of individual stone blocks. Additionally, the university's name and an 'IU' logo were also cast into several panels.
Thermomass Benefits
Because Thermomass insulation products are cast between the two wythes of concrete, both interior and exterior surfaces are free for a wide variety of finishes like the limestone texture of the stadium's addition. This exposed concrete also creates a durable, low-maintenance surface ideal for public spaces. Additionally, Thermomass insulation creates a building envelope that boasts enhanced energy efficiency and moisture resistance.
The insulated precast panels were such a success that Gate Precast received a 2011 Design Award from the Precast/Prestressed Concrete Institute.